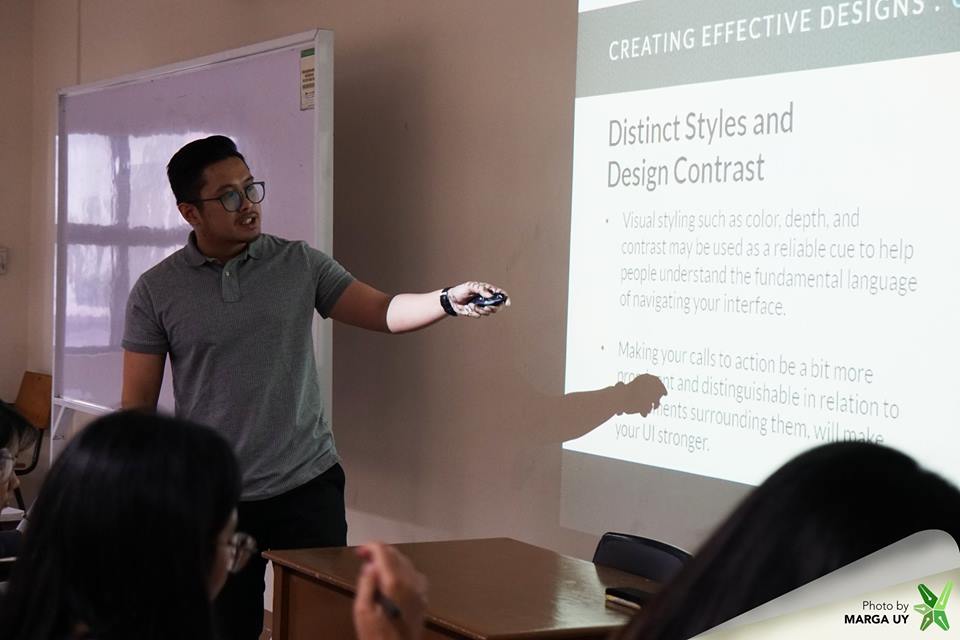 Rocketship director Aldrin Jacinto educating students on effective User Interface Design techniques. Photo by Marga Uy grabbed from LSPCON 2018 Facebook Page
Three past projects were shown to the students and used as examples on how the design company pulled off some of the greatest designs rendered for the presented past projects. Sharing their past experiences on challenging projects, the specific problems they have encountered and the solutions they came up with to solve these design obstacles were the main discussions in this portion of the talk.
The team showed a time-lapse video of how a poster design was composed from start to finish followed by several illustrations, sketches and actual photos of the production of a popular space design project designed by the team.
Besides these, the speakers from Rocketship also showed how they went through the whole process of creating a logo for a client in the hotel industry by showing the brainstorming and conceptualization method they went through, the design studies they rendered and the final logo they came up with for this project.
Enlightening non-designers on design
The Rocketship duo also gave tips to students on how to effectively develop design concepts from scratch using the webbing brainstorming method which the students found very useful. Actual project conceptualization and brainstorming examples and techniques were also shown to demonstrate how different concepts branch out from one main concept and how these branches can be used to create visual elements which can be used in an actual design.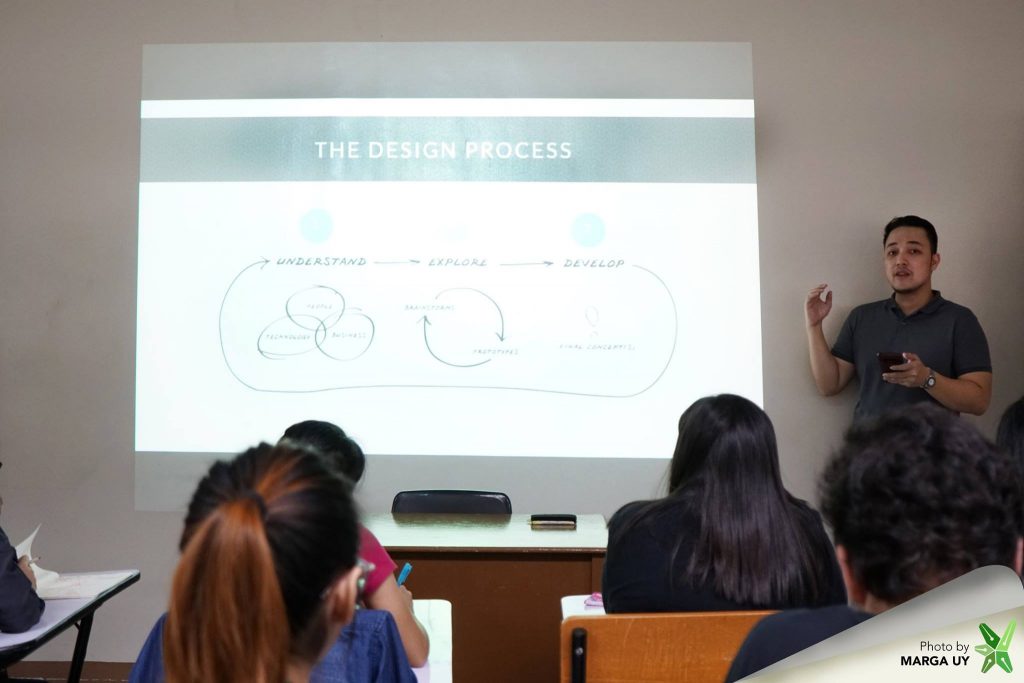 Rocketship director Robert Soliman discussing the design process. Photo by Marga Uy grabbed from LSPCON 2018 Facebook Page
In the end of the talk, the student journalists were eager to ask additional questions regarding the topics discussed which highly showed their interests in design. The Rocketship directors were happy that they have also imparted their knowledge to up and coming industry professionals and hoped to do more talks in the future.
The Lasallian Schools Press Conference was held at De La Salle University – Manila campus and is an event held annually, participated by student media groups coming from different La Salle schools.
Credits: Lasallian Schools Press Conference Facebook Page https://www.facebook.com/AnimoLSPCon/