Rocketship Creative Design Lab headed by creative pioneers Aldrin Jacinto and Robert Soliman, and in collaboration with J-Designs for the interior design of the house, Imagemax and Graphic Factory for printing of the wall stickers, designed the walls of the Pinoy inspired interiors that will house the newest batch of housemates in Pinoy Big Brother: 737.
Rocketship breaks new ground as the company integrates graphic design into living space by creating all the wall illustrations of the famous house. The illustrations are inspired by the streets of Manila in a design style the company refers to as "Pinoy Pop".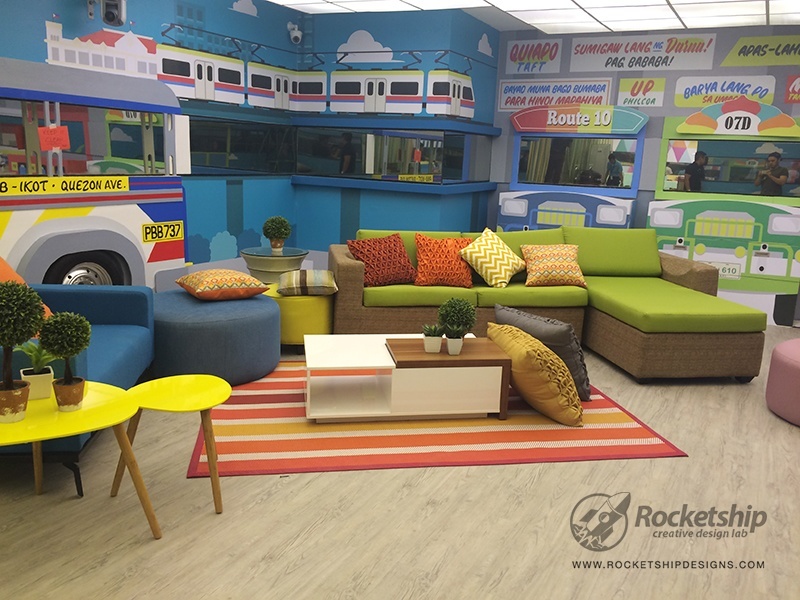 The living room walls include 3 famous Philippine landmarks namely the Rizal Monument, the Mayon Volcano, and the Malacañang Palace. The bustling streets of Manila, illustrated with simple shapes and a set of eye-catchy colors, is defined by its most prominent means of transportation, the Philippine Jeepney. The jeeps, illustrated on two walls of the living room, pop out of the wall in a 3D installation to give a more realistic look and feel. The illustration of the LRT (Light Rail Transit) is also integrated in the upper part of the wall.
On one side of the PBB house hangs a selection of witty jeep signage and common routes. A gas pump is ingeniously designed to serve as a storage drawer for the housemates. Viewers will surely connect to this side of the Pinoy Big Brother 737 house what with the recognizable jeep placards such as: "God knows Hudas not pay" and "Sumigaw lang ng Darna pag bababa!".
A celebration Filipinos love–the Pinoy fiesta, inspired the adornments of the dining room and kitchen area. The burger stand and fishball cart combo serve as the focal point of the dining room walls.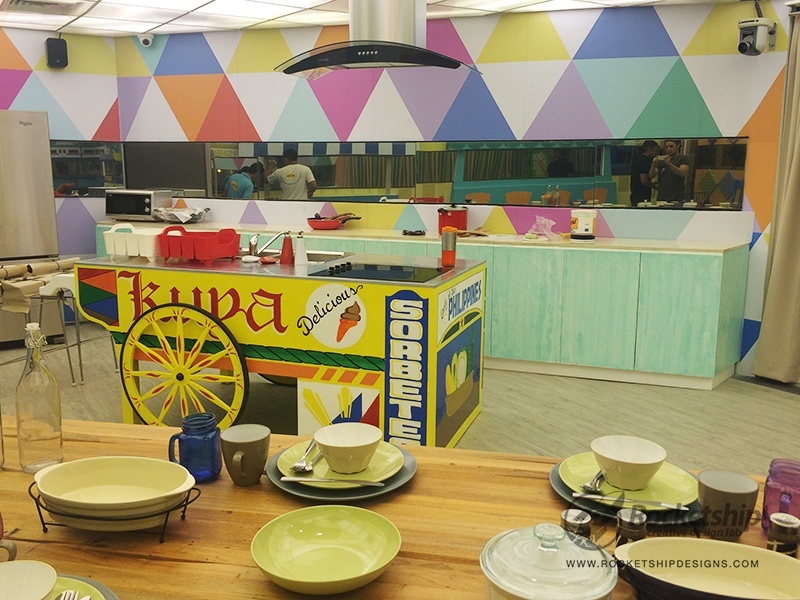 Banderitas line the walls to give a truly pinoy festive feel and is positioned to provide accent to the kitchen's center island inspired by a sorbetes cart.
The Pinoy Pop theme continues to the boys' and girls' rooms with the boys' room playing with the theme of bottle caps or tansans. Common Filipino words of courtesy and wise sayings are inscribed on the tansans.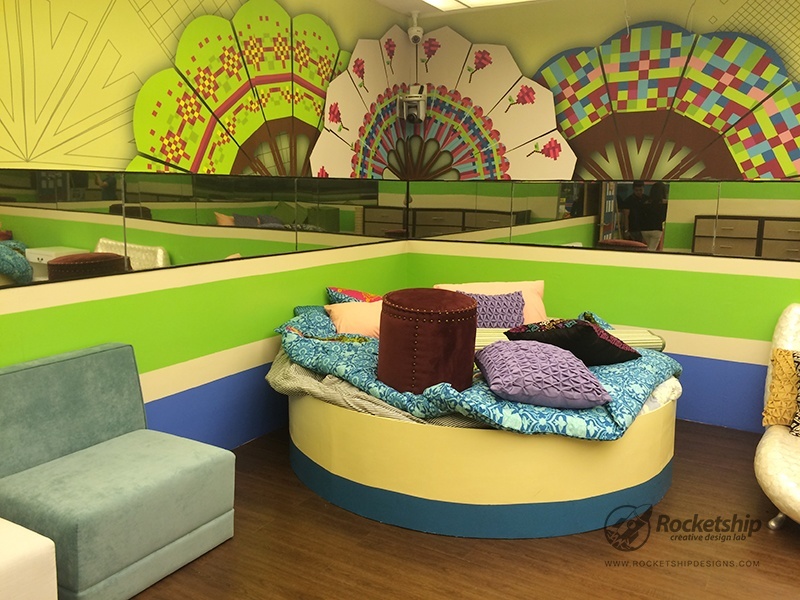 For the girls' room, elegant Abaniko fans provide the embellishments on the wall.

Finally, the Pinoy Pop theme concludes at the media room where the walls are inspired by the woven pattern of the traditional bahay kubo.This concept is integrated with modern emoticons along with everyday Filipino greetings.
The overall look of the Pinoy Big Brother house is colorful, hip, modern pinoy, and homey—reminiscent of the metro that is close to our hearts. Rocketship Creative Design Lab delivers this visual treat to Pinoy Big Brother housemates and viewers by crafting livable and lively graphic designs.
Pinoy Big Brother: 737 airs everyday at ABS-CBN.
Written by:
Angeline Mendoza
Design Team Heads:
Aldrin Jacinto & Robert Soliman
Wall Illustrations:
Living Room:
Aldrin Jacinto, Robert Soliman, Berna Gutierrez, Grace Limlengco,
Karen Mercader & Pauline Jakosalem
Dining Room / Kitchen:
Aldrin Jacinto & Robert Soliman
Boys' Room:
Pauline Jakosalem & Robert Soliman
Girls' Room:
Karen Mercader
Media Room:
Aldrin Jacinto & Robert Soliman
Confession Room Tile Pattern:
Adrian Paredes